commercial water boiler 5015,15L water kettle, Electric stainless steel commercial coffee pot is made of stainless steel with long service life and easy to clean. Cook delicious hot coffee or tea and keep it at a perfect temperature and flavor for several hours, with safety switch and boiling heat preservation indicator.
Transparent knob, let you see how to heat water boiler, coffee filter, sliding cup holder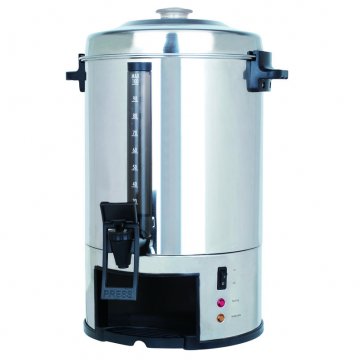 Model
Capality
Power
40'HQ(pcs)
5010
10L
1500W
1280
5015
15L, 100cups
1500W
1150
5020
20L
1500W
1050
5025
25L
1500~2000W
950
5030
30L
1500~2000W
850
Measuring cup observation ball, easy to use non dripping tap, can be continuous or one cup drinking. Start the press with the cup.
Cool touch handle, two energy-saving heaters, can be used for commercial and industrial purposes.

Tips: Be specific with your request, such as
1. Personal or business information
2. Provide product request in great detail
3. Inquiry for MOQ, Unit Price, etc.